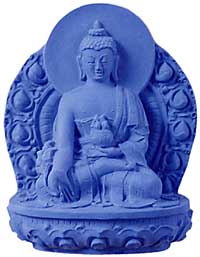 The long version of the mantra:

OM NAMO BHAGAVATE BHAISHAJYA GURU VAIDURYA PRABHA RAJAYA TATHAGATAYA ARHATE SAMYAKSAM BUDDHAYA TAYATA OM BEKHAJYE BEKHAJYE MAHA BEKHAJYE BEKHAJYE RAJAYA SAMUNGATE SVAHA
Translation or interpretation of the mantra:
Auspicious one!
I prostrate to you, King of lapis lazuli, who has conquered the cycle of birth, aging, sickness and death, who has gone to the state of the Buddhas, the supreme physician, who is perfectly awakened, the enlightened One, Medicine Buddha, King of all physicians.
The short version of the mantra:

TAYATA OM BEKANDZE BEKANDZE
MAHABEKANDZE RADZA SAMUDGATE SOHA
There are multiple ways to write or to pronounce the mantra. Tibetan or Sanskrit are different ways of pronunciation or writing.
A proper pronunciation is important, but the most important is always that the singing or chanting comes from the heart. 
The heart is what it is all about 
In three little movies, Shantimayi gives an explanation about the mantra. Trough this movies you can learn the right pronounciation. In the third movie we sing the mantra on music. If you want to know the chords, you can find them right under the movies.
Displayed underneath is a way to sing the mantra on music
(click the picture for a bigger image)